Hello to all you coming from the October 28th Followers Fest! I would love for you to follow me and I will return the favor.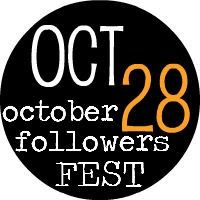 Starting in 2007 a group of my friends were talking about starting a haunted walk. Well they did it that year out on a whim and it was fantastic. Each year it gets bigger and bigger, my boyfriend has been involved since the beginning and loves it. All of these people LOVE Halloween. This year someone took a video of the walkthrough. Enjoy! My man is the guy toward the end telling the girl to shut up with the long hair and mask.
This year they started a
Facebook page
, hoping to spread the word. Here are some pictures as well over the years of their scenes they have done. Next year they want to add another scene. So what
scares you the most? What you would be afraid to see in a Haunted Trail?
CAST AND CREW THIS YEAR! HAPPY HALLOWEEN!